There are so many fun tours in Charleston!!
Below are some tours ideas, some are free. Payments for the tours are to be made via the vendor link or when you visit the venue.

Please keep Monday, November 11th open for the TACAMO Hall of Fame Luncheon Banquet
Mount Pleasant Visitors Center
Below are our ticket prices available at the Mount Pleasant Visitors Center - Located 6 minute drive, 30 minute walk to 99 Harry M. Hallman Jr Blvd, Mt Pleasant, SC 29464
*Carriage Tours- Depending on tour company they range from $17.50-$22 per adult

*Aquarium- $25.95

*Birds of Prey- $18 (it is the same price online, but we save you the service charge)

*Hunley- $14 for adults, $12 for seniors and military

*Harbor Tours- Depending on tour company they range from $20-$23 per adult

*Dinner Cruise- Weekday $49.60, Fri & Sat $64

*Ft Sumter- The only way we sell this ticket is if you do it in combination with either a Bus Tour or Carriage Tour of the city. If you are wanting individual tickets for Ft Sumter, they will need to be purchased either ahead of time online or directly from the dock on the day of

*Boone Hall- $20 per adult

*Old Exchange and Provost Dungeon- $9
​
ADDRESS: 99 Harry M. Hallman Jr Blvd, Mt Pleasant, SC 29464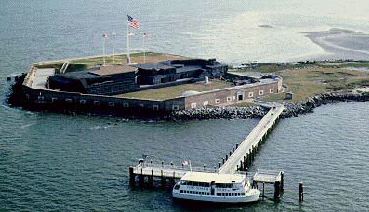 Adults $22 - Seniors & Military $20.00 ​
Reservations are required at least five days in advance

Also purchase tickets at Patriots Point Naval and Maritime Museum

(40 Patriots Point Boulevard, Mount Pleasant, SC 29464)

All Rates and Trips are subject to change and availability

Decades of growing strife between North and South erupted in civil war on April 12, 1861, when Confederate artillery opened fire on this Federal fort in Charleston Harbor. Fort Sumter surrendered 34 hours later. Union forces would try for nearly four years to take it back.

Fort Sumter Tour is 2 ¼ hours, includes round trip boat ride, taped historical tour of the harbor and a 1 hour self-guided tour of the fort

Bring water and snacks or shop at the Snack bar available on all tours

The Fort Tour has limited accessibility for the disabled and those with mobility issues.
**Please note the Fort Sumter Tour is a boat excursion dependent on changing weather and tide conditions, Fort Sumter Tours cannot and does not guarantee accessibility. Please call 843-722-2628 the day of your tour to verify accessibility.
Adults $22 - Seniors & Military $20.00
Purchase Tickets ​- 2 options

At the gate - Monday-Saturday 9AM-5PM Sunday 12PM-5PM

House Tours - The 30 minute tour begins on the first floor allow guests to see how this Georgian-designed an atmosphere that would have surrounded a Coastal Carolina planter's family and his guests.

"Exploring The Gullah Theater" Check schedule sheet given out at the front gate for performances times.

Plantation Coach Tour - Guests load up in front of the Butterfly Cafe for a 30-40 minute motorized tour around the entire 738 acres.

Black History In America Exhibit - This self guided tour is on display in eight original slave cabins.

Slave History Presentation -This informative presentation begins in front of Cabin 1 which is the cabin located closest to the front gate entrance to the plantation home.

Garden Tour

Butterfly Pavilion
Historic Waterfront Battery

Antebellum Mansions

Hidden Gardens & Courtyards

Historic Churches & Graveyards

The Revolutionary and Civil War
Prohibition, and how locals found ways to circumvent the laws.

Piracy and the rum trade.

The old speakeasies where bootlegger Vincent J. Chicco made a fortune selling tickets to "Blind Tiger Fights," then used his money and influence to win election to the City Council for four consecutive terms. He also managed to be the chief investigator of all alcohol-related crimes.
On the Charleston Jail History Walking Tour you can finally experience the foreboding Old City Jail during the day! Roam the inside of this eerie building during daylight hours and see up-close what the walls reveal in this 215-year-old jail. Learn about the inhumane conditions experienced by inmates & soldiers. See where Charleston's worst criminals lived and died. If you dare, come back that evening for our Charleston Haunted Jail Tour.
Savor the flavors of Charleston Walking Tour
Saturday 11/10
10am – 1230pm
2.5 hours
$60 per person (List Price $65)
6 minimum: 36 maximum
TCVA Must have 6 to get group rate
Come join us as we walk, talk, and taste our way through Charleston. This tour will immerse you in the history and culture of the Lowcountry. Learn how our unique cuisine has evolved over the 300+ years while sampling our specialties. You will become familiar with our local Chefs and their menus as you explore Historic Charleston.
The tour will include the following stops:
Market Street Sweets - Southern confections - praline

The Spice & Tea Exchange – Vegetables, bread, crackers, & dip

Visit 2 restaurants serving Lowcountry fare: Typical tastings; such as Grits, BBQ, Collard Greens , Mac & Cheese, Red Rice, Coleslaw, Fried Green Tomato
**Each guest will receive a complimentary bottle of water & drink koozie.
Adults $26 for 16 passenger
Enter promo code EARLY and save $4.00 off per person on the 9:00 AM tour when you book online.

Please Arrive 10 Minutes Before Your Reservation Time!
Clippity-clop your way back to Colonial times in Charleston's most comfortable carriages. This horse-drawn carriage tour will reveal over 300 years of history, including antebellum mansions, churches, and gardens. A licensed guide wearing the red sash will inform and entertain you with historical facts, lore, and humor. One-hour narrated carriage tour covers more than 2.5 miles and 30 blocks of historic Charleston. It really is the best way to see the "Holy City" and learn about its rich and vast historical areas and attractions.
Total $250 for 8 passenger ​
Please Arrive 10 Minutes Before Your Reservation Time!
We offer a private one-hour historic residential carriage tour in our wagonette for those who want a personal tour guide for their party of 8 or less. This tour covers the same area as our 1-Hour Residential Tour.
$250 per booking
*Prices may change based on seasonality.
No Booking Fees! Must arrive 10 minutes prior to your reservation time.
Total $150 2 or 4 passenger ​
Please Arrive 10 Minutes Before Your Reservation Time!
The most romantic way to be transported through the streets of Charleston in the quiet of the evening is aboard our intimate vis-à-vis carriage. This 40-minute private carriage tour covers 15 blocks, mostly within the original walled boundaries of Charles Towne.
Drop-off service available. We can drop you and your party off at the location of your choice within the boundaries of Hassell St. – Broad St. and King St. – Waterfront Park. Fabulous restaurants, romantic settings, and rooftop bars are within this drop-off vicinity. Let us make your evening extra special by escorting you in high style to the destination of your choice.
Available Seasonally.
$150.00 per booking
(Additional fee for drop-off service – please call us at 843.723.9712)
FREE
The cable stayed bridge has a walking path, which allows locals and tourists to trek the 6 miles round trip for the best views of the city.
If you're walking the bridge on your own, you can park on either end. The Mount Pleasant side has paid parking at Waterfront Park. On the downtown side, there is free parking off of East Bay Street. The downtown stretch starts with a long walk over the marsh before you even reach the main part of the bridge. You can either go the full length or go halfway In either case, be sure to yield to bicyclists and stay in your lane.
There are no public restrooms on the downtown side, but there is a water fountain and restrooms on the Mount Pleasant side. Bring a bottle of water for your walk. Also start around dusk to watch the sun set over the Ashley and Cooper rivers.
Sweetgrass Culture Arts Center
FREE
At Memorial Waterfront Park/ Mount Pleasant Visitors Center
99 Harry M. Hallman, Jr. Boulevard
The Sweetgrass Cultural Arts Pavillion, located in the Town of Mt. Pleasant's Memorial Waterfront Park, is a permanent structure dedicated to showcasing the history, culture and art of sweetgrass basketmaking. Browse the exhibits and visit with local basketmakers. The pavilion is also the site of several events including the annual Sweetgrass Cultural Arts Festival in June. The Mount Pleasant Visitors Center and waterfront playground is located beside the pavillion, which makes it a great stop for everyone!
FREE
Former Charleston Naval Base
Accessible from I-526 and I-26. Enter the former Charleston Naval Base by the McMillan Avenue gate or the Virginia Avenue gate and turn onto Hobson Avenue. Riverfront Park signs are visible for easy to follow directions.
Set on the banks of the beautiful Cooper River, the park is adjacent to the historic homes once occupied by Naval officers who were stationed on the Charleston Naval Base, surrounded by graceful grand oak trees and peaceful river vistas. Bordered by Noisette Creek, the park boasts a magnificent contemporary Performance Pavilion and meadow.
Riverfront Park is home to the Greater Charleston Naval Base Memorial, erected in honor of the countless military personnel and civilians that served the United States and the Greater Charleston region while the Charleston Navy Base was operational. The Memorial is the Lone Sailor and the Homecoming Statues.
FREE
DAY MARKET
Operates daily from 9:30 a.m. - 6:00 p.m. in three open air sheds as well as the Great Hall.
NIGHT MARKET
Operates on Fridays & Saturdays (April - December) from 6:30 - 10:30 p.m. outdoors.
Welcome to the Charleston City Market, one of the nation's oldest public markets and the cultural heart of Charleston. We are home to more than 300 vibrant entrepreneurs, and we are open every day of the year except December 25th. No matter what time of day or season you plan to visit, there is something to see, do, taste, and take home as a souvenir from the Charleston City Market!
Top 10 Things to do in Charleston
​
Stroll The Battery – sunrise and sunset are optimum times.

Swing on the swings at Waterfront Park.

Window shop on King Street.

Visit some cemeteries & churches (most are open in the daytime).

Take a walk on Sullivan's Island.

Visit Ft. Moultrie – site of a Revolutionary War battle.

See The Angel Oak on Johns Island – 1400 yr. old Live Oak tree.

Visit the art galleries of The French Quarter.

Check out "The Red Barn" operated by Palmetto Carriage Works (especially fun for children) – located at 8 Guignard Street.

Stroll The Gateway Garden Walk – links The Unitarian Church to St. Phillip's Church.
THE ESTUARY SPA @

Charleston Harbor Resort
15% off treatments at the Estuary Spa for hotel guests over November 7th to 13th
The Estuary Spa provides a variety of services and treatments crafted to rejuvenate your mind, body, and spirit. The renewal process begins the moment you enter our doors, where the coastal inspired ambiance is reflective of our seaside oasis, The Beach Club, which is part of the distinctive Leading Hotels of the World Collection. Our highly trained staff can customize a therapeutic treatment to target a particular area of emphasis and tailor the experience for overall relaxation. Both individual and couple treatment rooms are available. Natural and Organic is the guiding philosophy behind our featured product line, Naturopathica, which translated means natural therapies. After a well-deserved day of pampering and relaxation at The Estuary Spa, you are sure to leave looking and feeling refreshed.